Without a doubt, the single most important factor when selling your house is setting the sale price. Throw away the notion that to get what you want you need to price higher to make room for negotiating. The most effective way to price is to price it exactly where it will sell.
Capitalizing on the first 2-3 weeks after listing the house is vital. During this time buyers in the market will be scheduling showings as they know most homes that are priced right will sell quickly. After the first couple of weeks, the number of showings will drastically slow down. At this point, you will have exhausted all interested buyers currently in the market and will need to wait until new buyers enter.
If you set your price too high you run the risk that your house will lose the freshness of its appeal during this most important time. Psychologically, buyers view homes that have an extended number of days on market (DOM) as stale and automatically think that they are priced too high or that something is wrong with them. If buyers are interested in a home, they will try to use the DOM as leverage to negotiate a much lower offer price.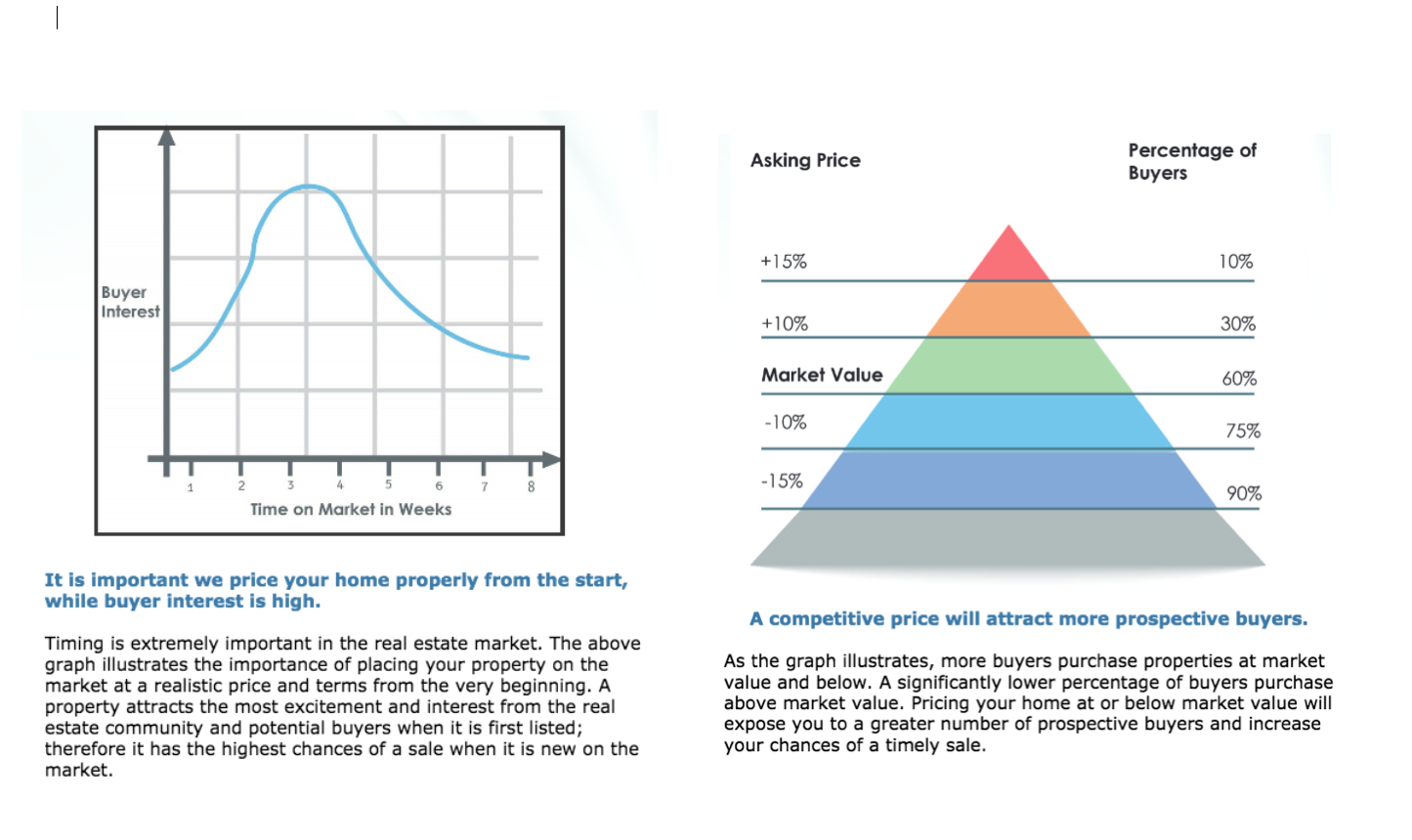 As seen in the chart above, the higher you price your home above actual market, the fewer the number of people who will be interested in coming to look. As you price below market, interest increases and more people will come to look. Although there are different strategies you can take, by far the most predictable method is to price as close to market value as possible. This ensures you receive the highest amount of exposure to the buyers in the market and ultimately receive as much money as possible. Pricing too high limits your house's exposure to buyers and can drastically lengthen the time it takes to sell. Many times you will then need to make a price reduction to below market value just to create enough interest again to have new buyers take a look. Don't worry about pricing too low. Homes priced below market will often receive multiple offers, which will then drive the price to true market.
Pricing is all about supply and demand. It's part science and part art. Working with an experienced agent is important to make sure you have access to accurate market data. Avoid pricing too high and your house selling experience will be much more pleasurable and net you more money at closing.
If you have any questions or would like to talk about your interest in BUYING, SELLING or INVESTING in Vermont real estate, don't hesitate to reach out to me as I would love to hear from you!
Kyle Adams, Realtor®
802-999-3710
kadamsvt@kw.com